"Someone has killed Father!"
August 4, 1892: Lizzie Borden calls out frantically for help. When the maid and the neighbors come running, they find Lizzie's father, Andrew Borden, lying murdered in the sitting room of the Borden home at 92 Second Street in Fall River, Massachusetts. Soon after, the body of Lizzie's stepmother, Abby, is discovered upstairs.
As the minutes give way to hours, one person rises to the top of the list of suspects: Lizzie herself. But how could a mild-mannered young woman from a prominent family be an axe murderer?

In a compelling narrative, Sarah Miller investigates the chilling crime — from the gruesome details of that fateful August day to Lizzie's dramatic court battles to the role sensational newspapers played in swaying public opinion.
Enhanced by period photos, newspaper clippings, and, yes, even an image from the crime scene, this is middle-grade non-fiction that races like a true crime novel. Prepare to devour it and to grapple with the same questions a nation asked itself over a century ago: Did Lizzie do it? And if not, who did?
Lizzie Borden, circa 1880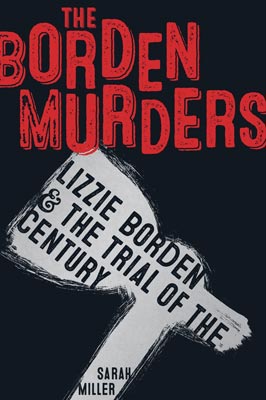 Bank Street College of Education's Best Children's Books of the Year 2017
CCBC Choices 2017 Selection
Chicago Public Library's Best of the Best 2016
International Literacy Association's Young Adult's Choices List 2017
Reader's Digest Best Biographies You Should Have Read By Now
School Library Journal's Best Books of 2016
Tennessee Volunteer Sate Book Award Nominee 2018-2019
Texas Topaz Nonfiction Gem 2019
YALSA Quick Picks for Reluctant Young Adult Readers